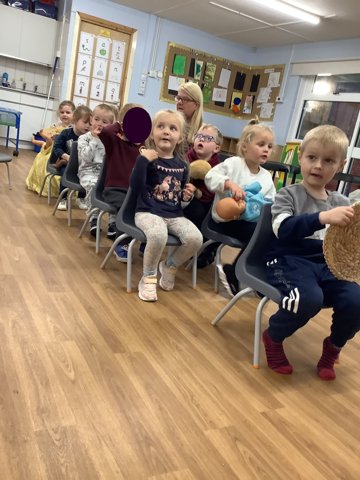 Our favourite song in nursery at the moment is the Wheels on Bus. We really enjoyed pretending to board the bus with our bus tickets and take a trip into town. We sang the song and did all the actions. The bus driver drove very carefully through the town and we all made sure to keep our baby dolls…
Category: NURSERY BLOG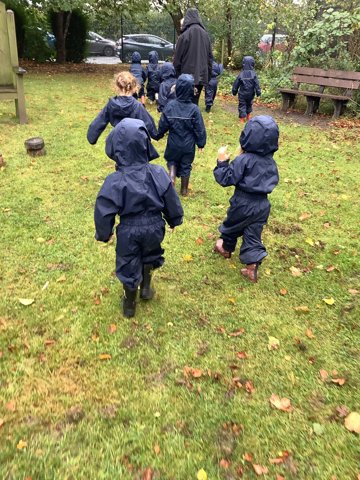 Today we went for a listening walk around the school garden. We go on listening walks when we want to focus on the different sounds we hear in the environment. We heard a car, a bird and we walked through the soggy, wet leaves to hear the sound they made. The children listened beautifully and…
Category: NURSERY BLOG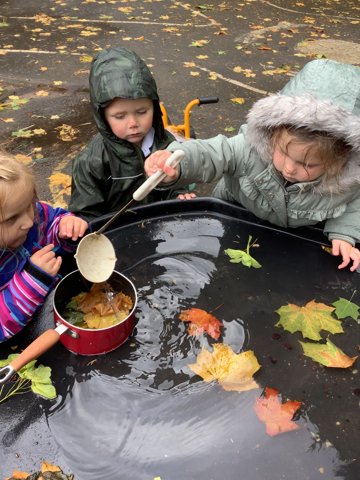 It rained all day today but we didn't let that stop us! The children had a great idea, we made leaf soup! Using the leaves in the tuft tray and all the rain water they made delicious leaf soup. We enjoyed the soup then decided to paint the garden with the remainder of the soup. :) Anything is…
Category: NURSERY BLOG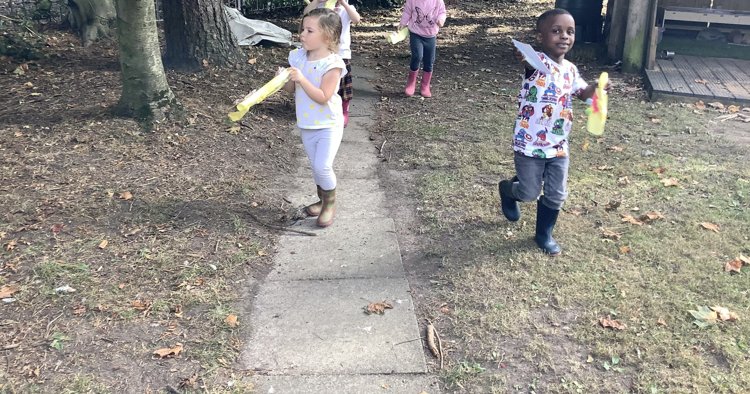 This week we have been looking at the story of The Shark in the Park! We were so surprised to find sharks in our nursery garden, so we made some telescopes with different media and materials and headed out into the garden! The children looked up, looked down, looked left and right and looked all…
Category: NURSERY BLOG
Category: NURSERY BLOG
Category: NURSERY BLOG
Category: NURSERY BLOG
Category: NURSERY BLOG
This week has been our first week back at Nursery and what a fun week it has been! It has been so lovely welcoming all our children back and we are so proud of how well they have come back after such a long time. We have had lots of fun creating our outdoor area together, making a mud kitchen and…
Category: NURSERY BLOG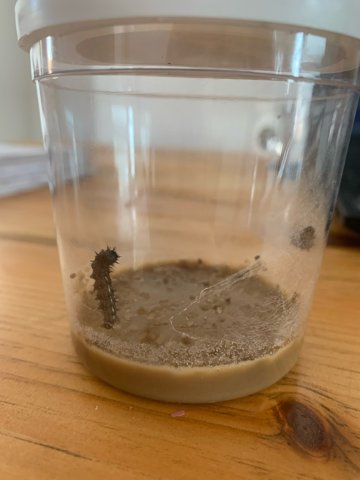 This half term we are going to be learning all about growing and life cycles.
We have had a very special delivery of caterpillars! They are only tiny at the moment but we will keep posting lots of pictures so we can look at how they grow and how they change over the next few…
Category: NURSERY BLOG
Dear Parents/Carers,
I hope everyone is well at this uncertain time and being safe. I trust that all of you have received your child's home learning activity sheets and enjoying lots of family time and creating memories, making the most of this situation we all find ourselves in. If you have…
Category: NURSERY BLOG
Hello,
We have a busy few weeks coming up and i wanted to just inform you of some dates to be aware of.
Dates for your diary: -
Wednesday 20th November- Maths Stay and Play 9-10am
Friday 29th November- Own clothes day
Wednesday 11th December- Nursery Nativity at…
Category: NURSERY BLOG